Make Your Trip to Turkey Pocket Friendly by Visiting These Free Places
Turkey is an amazing country, and one of the biggest reasons for this is you can experience three cultures in this country – European, Middle Eastern, and Asian. So, if you are thinking of visiting this place, you are in for a great holiday. The country also has many places where you don't have to spend any money. Visiting these places will ensure you have an excellent holiday within a budget.
Top Free Things to Do in Turkey
Suleymaniye Mosque
If there is any Ottoman-era Mosque worth visiting, it is Suleymaniye Mosque. Located near Grand Bazaar, you don't have to pay anything to get into the biggest mosque in Turkey. Just get in and enjoy the stunning architect of this massive place. The mosque has many windows through which natural light illuminates the ceilings. The mosque also has a perch that overlooks the Bosphorus and the Golden Horn. Suleymaniye Mosque is so big that it also has a massive kitchen, library, hospital, and Hamam. You can visit the mosque anytime from 9:00 am to 6:00 pm, except for during prayer calls.
Grand Bazaar
The name, Grand Bazaar, is apt for this massive market in Istanbul, Turkey. More than 40,000 shops spread across 66 lanes welcome you to the Turkey of the 90s. The architecture and the feel of the market are unique and completely Middle Eastern. Here, you can buy everything from antiques to the most stunning pashmina fabrics, or you can just roam around the market doing window shopping. This is a must-visit destination that is absolutely free.
Dogançay Museum
Adil and Burhan Dogancay are a father-son duo of artists. All of the artwork is displayed in the Dogancay Museum, the first modern art museum in Turkey. The museum houses paintings and photographs by the duo that chronicle their travel and adventures around the world. This is a one-of-a-kind museum that will cost you nothing for a visit.
Bomonti Flea Market
This is another flea market that is worth a visit. Though the Bomonti Flea Market is not as big as the Grand Bazaar (most aren't), it still has a charm that brings many people to the market. This is an amazing place for cheap shopping, and you will find many unique items like old cameras, classic books, vinyl, toys, and books. This is a favourite haunt for the locals as most love spending their Sundays indulging in bargain shopping.
---
---
Pera Museum
Every Friday from 6:00 pm to 10:00 pm, the Pera Museum is free and open to all who love contemporary art. Pera museum is home to Turkish Orientalist art that cannot be found anywhere else in the country. So, if you are interested in experiencing art and culture, be sure to check out the Pera Museum.
Church of St Stephen of the Bulgars
There is a sizable Christian community in Turkey and they have been in the country for many years. One church popular with the community is the Church of St Stephen of the Bulgars. The Church was actually built in Vienna with cast iron materials and was shipped to Turkey. Witnessing the beautiful church is absolutely free.
Beyazıt State Library
Turkey's largest library, the Beyazit State Library, is one of the most picturesque libraries in the world. Inside, you will see pillars that look like the Roman colosseum. There is also a lot of restoration work done that mixes the old with the new. Do visit this library and you will find yourself mesmerised by the domes, architecture, and the collection of amazing books. This place is free to visit, so make sure it is on your itinerary.
Turkish Hamam Culture Museum
A 16th-century Turkish bathhouse has been converted into the Turkish Hamam Culture Museum. Though you won't get a massage here, you will be able to know the history and significance of this important part of Turkish culture. The museum is packed with pictures and authentic artifacts that have been used over the centuries in the bathhouse.
Kleopatra Beach
Queen Cleopatra was in love with this amazing beach, and hence, the beach was named after her. She came to relax here when she was travelling in the Mediterranean region, and when you visit this place, you will know why she loved it so much. The icy blue waters of the beach look like they have come alive from an artist's painting, and white sand looks like snow. The beach has been developed to become a prime attraction with cafes, retail stores, and more, but the best thing to do here is get on the beach and just relax and enjoy the water.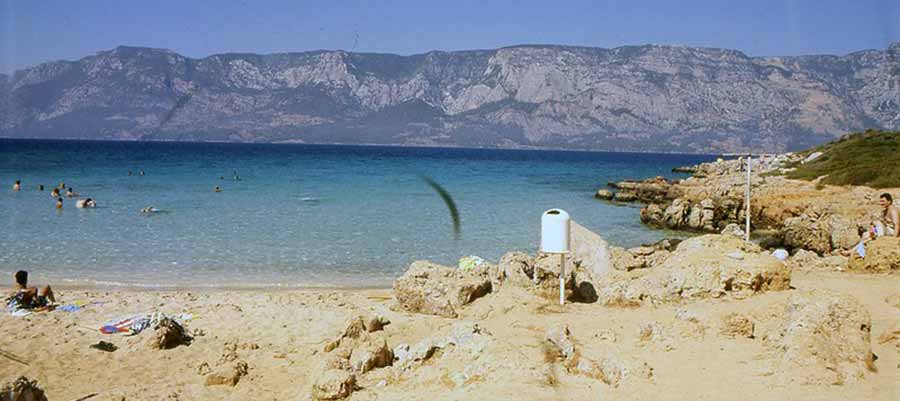 Patara Beach
 Patara Beach is not your typical beach. The beach stretches for 18 kilometres and is bordered by sandstone peaks. This beach was popular in ancient times as well as ancient architecture was discovered near the beach. Patara Beach is also known for its water sport activities, so it is a great place for enthusiasts. But the best thing about this beach is that it is not going to cost you anything to sit and enjoy the clean waters of this magical beach.
So, if you want to have a memorable Turkey trip on a budget, make sure you visit these amazing places given above and have a wonderful time.